Play Park de Swaan - Attraction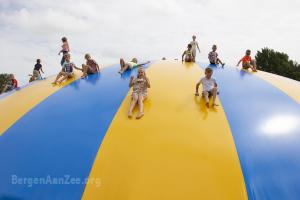 Near the Geestmerambacht recreation area lies the unique Play Park de Swaan; the largest play park in North Holland. There is something for children to enjoy from 1.5 to 12 years old.
But younger and older brothers and sisters, dads, mums, grandpas and grandmas can, of course, come and play too. Sing your heart out in Liedjesland, jump on the huge bouncy castles, slide, swing and romp in the playgrounds, and go on an adventure on rope bridges, logs and rafts.
Don't forget your swimming gear, so you can enjoy yourself on the water cushion. A day full of fun for the whole family!
For information:
Book tickets online
Wagenweg 2A, Oudkarspel
web.
Website